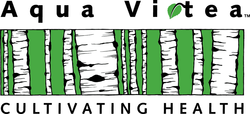 Lantman's Market was recently introduced to a local company from Bristol, just a few towns away. We are quite excited to be sharing these new products with you!
Aqua Vitea
(based on the meaning "tea water of life") is a kombucha-drink-making company that has a strong ethos: "For an individual or business to achieve success they must share a symbiotic or mutually beneficial relationship with their community. Furthermore, the health of the community depends on the health of its individuals, and an individual's health begins with food" (http://www.aquavitea.com/About/) .
Not quite sure what kombucha (
kawm-boo-chah
) is all about? Here's some information: The fermented drink kombucha contains a live culture (similar to cultures in yogurt). It can provide enzymes, organic acids, vitamins and probiotics to your body. Some of Lantman's customers have commented that drinking a kombucha beverage makes them feel energized. Kombucha is a "raw" food, meaning that nothing has been done to it except for the natural process of fermentation.
Other ingredients enhance the flavor of Aqua Vitea's drinks. Aqua Vitea uses tea sourced from
Stone Leaf Tea House
located in Middlebury, Vermont. The tea is fairly-traded and is organic!
Stone Leaf Tea House
works toward increasing direct relationships with tea growers, which adds to the socially responsible qualities of Aqua Vitea.
Currently at Lantman's Market we are carrying three different flavors of Aqua Vitea beverages: Elderberry, Hibiscus-Ginger-Lime and Blackcurrant. The drinks are located in our
produce department
on the top shelf of the main fruit cooler. Let us know what you think! We love to hear your comments! Thank you for your support of local products that we carry in the market!
To find out more about Aqua Vitea visit their website
here
!