This brand new business, created and run by Marcie Taff (a Hinesburg resident!) has a focus on creating aromatherapy and natural products that are fun and relaxing for adults and especially children. Marcie explains: "In search of locally made, all natural products for my family and friends, I found only a few that would meet my needs ... I was on a mission to make my own products that could be used by my children ... and for my husband." Now Marcie is sharing the benefits of these products with your family, too. Marcie owned the largest day spa in Steamboat Springs, Colorado for 5 years, as well as having a Massage/Reiki private practice, and an Elements Wellness Center in Richmond. All of this adds up to over 20 years professional experience resulting in her new line of Lotus and Lily products.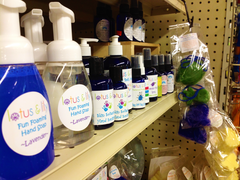 Lotus and Lily Products are locally made and hand crafted in small batches. The products are Aromatherapy based, with all natural and organic Ingredients. Marcie searches out availability of local ingredients such as local honey and beeswax, locally grown flowers and herbs and Vermont maple syrup. Lotus and Lily products do not contain any parabens, artificial colors or scents, chemical additives, preservatives, or SLS.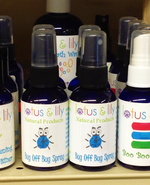 Lantman's Market is especially excited to be promoting Lotus and Lily's NEW Bug Off Bug Spray! This bug spray is designed as an "all natural DEET FREE bug repellent, that has a variety of essential oils to repel mosquitoes, flies, and ticks." While catnip essentials oils keep the bugs away, the uplifting citrus scent is a joy of summer!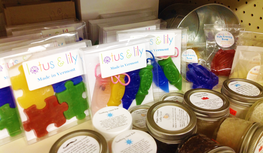 Make sure to stop by aisle 11 at Lantman's Market to try a tester for the wide range of wonderfully relaxing products. Marcie uses environmentally friendly, recyclable packaging as well as plant-based dyes and natural pigments in the products themselves. Marcie is introducing the Lotus and Lily range through select Vermont small businesses like Lantman's and hopes to have her Vermont-based company provide quality, natural aromatherapy products throughout the United States in the future.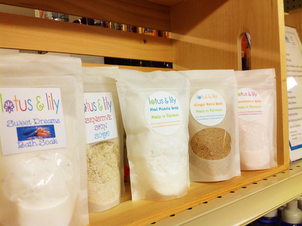 "I have been using aromatherapy and making products for over 30 years. Mother Nature has given us many gifts, some of which are herbs, trees, flowers and plants. The essence of these plants are steam distilled into the essential oil ..." 2014 marks the beginning of this exciting new product line -
Marcie is eager to share her products with you and your family! Come into Lantman's and check them all out!