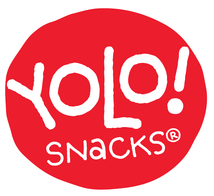 Maple, Cheddar, Barbeque ... sound like popcorn flavors? Well, for Vermont's premium quality popcorn company they most certainly are! Yolo Snacks has been around since 2011, owned by two friends, Steve and Peter, who are excited about sharing their products with those around them. Steve worked to help farmers save energy as an agricultural energy consultant. Peter, having married into an Iowa farming family, had a desire to promote the quality corn that's produced in Iowa. After being introduced to Steve when he moved to Vermont, the wheels started to turn for this Vermont-based company. From popping, seasoning, and bagging to sampling, selling, and delivering Steve and Peter say: "Ours is a business run by two families."

The snacks are whole grain as well as gluten-free certified, and the two primary ingredients in YOLO popcorn, the kernels and High-Oleic canola oil, are certified non-GMO. The products are produced in a Gluten free/Nut- free production facility. The company likes having close relationships with the producers of many of their ingredients. Their corn kernels come directly from a family farmer in Iowa who operates in the same county where Peter's wife was raised. Maple syrup for flavoring comes from Vermont producers. YOLO is a member of
VBSR
(Vermont Businesses for Social Responsibility). Looking to the future, Steve and Peter seek to widen the reputation of excellence Vermonters have earned as they expand YOLO's market into other states. Lantman's is thrilled to be a hometown market for these Vermont snack entrepreneurs.
"We strive to produce more than mere snack food…. We want people to have those delightful few moments in their day when they can "decompress" while enjoying a bag of Yolo."
Lantman's Market carries all four flavors of YOLO Popcorn:
Original -A unique and delightful marriage of herbs, buttermilk and sea salt
Barbeque - made with light brown sugar and a slightly spicy chipotle BBQ seasoning.
Cheddar – distinctly cheddar with just the right amount of tanginess.
Maple - Vermont maple sugar-kissed Kernels.
A display of YOLO Popcorn is usually hugging the end cap of our first aisle. We also have YOLO's Iowa White Corn Kernels in our bulk section (in aisle five) for your own popping enjoyment!
"Our products are made by hand, with utmost care. We trust that every time you open a bag of Yolo we'll live up to our motto ... 'Creating Smiles' ...."
To find out more about Yolo Snacks visit their website
here
or visit their facebook page
here.