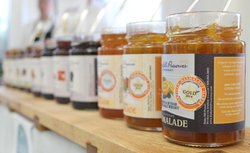 With the cozy winter months coming,
Blake Hill Preserves
gives us the bright colors and tastes of summer to enjoy all year long. With only 5 years in business Blake Hill has already won three
Good Food Awards
for their Grapefruit, Lemon & Thyme Marmalade, their Raspberry & Hibiscus Jam and their Moroccan Plum & Fennel Chutney - definitely ensuring a good autumn/winter pick-me-up!
Vicky, co-owner of Blake Hill with her husband Joe, says, "I am a third generation preserve maker from England, growing up picking fresh fruit from local farms with my family and then making jam on our return home. Upon moving to Vermont in 2004 we discovered wild blackberry bushes growing at the edge of the woods on Blake Hill and so got back into making preserves again. In 2009 a friend snuck a jar to the owner of Grafton Village Store and she immediately agreed to sell it, providing us our first order – albeit completely unexpected! Demand was much bigger than we could meet on a part-time basis so we gave up our full time jobs and built our own dedicated Preserves Kitchen at Blake Hill in Summer 2012 and have not looked back since!"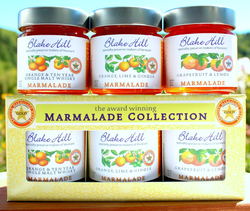 Blake Hill Preserves endeavors to make only the very best quality preserves - which means there are "no short cuts, no compromises in ingredients," just very pure and natural preserves. They use many organic and
non-GMO
ingredients and many of the spices are fair-trade certified. In 2015 Blake Hill will be introducing organic sugar into their line of marmalade which will allow the marmalades to be USDA-certified organic!
Blake Hill also strives to locally source many of their ingredients. As an example, "now [that we're] entering Fall, we purchase our heirloom variety apples from some great apple orchards within 15 miles of Blake Hill!" Vicky and her husband also grow many of the berries and fruits that you'll taste in the jam, marmalade and chutneys on their farm.
As a small local business in Grafton, Vermont they believe in the importance of being part of a community. The Blake Hill team regularly give to their local Meals on Wheels program, Vermont Food Banks, as well as many other charities in their community. "We believe a business should be a part of the community within which it works." Exhibiting a great environmental community spirit as well, "we recycle everything we can that is created by our business, whether it is through weekly visits to drop off cardboard boxes to our local recycling center, or members of our team composting scraps of fruits and vegetables for amazing, richly fertilized soil the following year, we try to recycle everything that we do not need in our business."
The community support hasn't been only one-sided though - from customers surrounding Blake Hill Farm to those farther afield in other states, the enthusiasm for these luscious preserves isn't hard to come by. "Thank you to everyone who has supported Blake Hill along the way. Everyone's enthusiasm for our line of all-natural preserves is so much appreciated by all at Blake Hill - it is a true pleasure to be following our family's preserve making heritage in the beautiful state of Vermont!"

With wonderfully colorful illustrations by Vermont artist Ailyn Hoey and wonderful award-winning tastes, indulgence in these preserves this autumn and winter is hard to resist.
Lantman's Market is currently carrying two chutney, two marmalade and three jam flavors - which include all three of the award-winning flavors. You'll find them all on the shelves at the end-cap of aisle one/two with some of our other great Vermont products!
To find out more about Blake Hill Preserves visit their website
here
.