A nice fine cheese for the upcoming holidays is an essential – especially when it's a locally hand-crafted cheese like Midnight Goat Farm's. With a strong belief in being environmentally responsible as well as being a big supporter in the buy-local movement, Midnight Goat Farm has a strong ethos to "produce something wonderful."
Yves, owner of the farm, says, "The idea for Midnight Goat Farm and artisan cheese making quickly developed after taking a CVU class in the fall of 2010. After 25 years in technology, sitting inside behind a desk all day, I was ready for a change. I've always loved cooking food and brewing beer, so decided to try something new - Cheese Making." With months of thorough research, "it was time to get our own goats. We started with just three pregnant French Alpine does - Shawna, Dawn and Nettie. Although a little nervous at first (both me and the goats), we quickly formed a strong bond. Goats are wonderful, intelligent animals. They know their names, come when they are called and all have their own voices and personalities.

In the Spring of 2011 the three ladies gave birth and I started milking each day and making cheese for friends and family to taste and provide feedback. At the same time, we were kept busy building a Grade A Dairy and regulation cheese plant. Finally, we went through the permitting, testing, inspections and other licensing processes to be able to start selling our farmstead artisan cheeses in June 2012."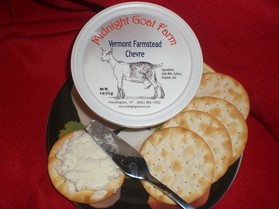 Located in Huntington, Midnight Goat Farm is the only commercial Grade A "hand milking" dairy in Vermont, which ensures extra rich milk from stress free goats. "We believe in having a positive impact on our environment and community. We work to enrich the spaces we use by treating them with the care and respect they deserve." Just recently the farm has created a new solar-powered dairy barn and creamery which will produce more electricity than they need, making the farm net positive. "We have a passion for keeping our footprint light and small. We work to erase the footprints of others where we can." On top of this, they also source their hay only two to five miles away, use cloth instead of paper when they're able to, use human powered hand tools, use a bike or walk whenever possible to carry out their work and of course they produce a large amount of compost! "Our ingredients are all natural with no fillers or preservatives. We don't use antibiotics, products containing GMOs or hormones of any kind. We are not certified organic, but mostly practice at or above organic standards."
Lantman's Market carries Midnight Goat Farm's Chevre – a creamy and light cheese "with just a subtle tang of sharpness. Perfect on a baguette or cracker, or try it warmed on top of a slice of tomato with basil, in a salad, folded in an omelet, or topping your next pizza. The options are endless!" You can find the cheese in the four-sided cooler next to the bakery department with the other specialty cheeses. With a lot of long hours and hard work, "we would not trade this new direction that we have taken. The goats have become part of our family and are an endless source of joy and laughter. We spend much of our days with them, outside in the beautiful Vermont countryside… If you're in the neighborhood, please stop by to say hi to the goats – they love to talk!"
To find out more about Midnight Goat Farm visit their website
here
.