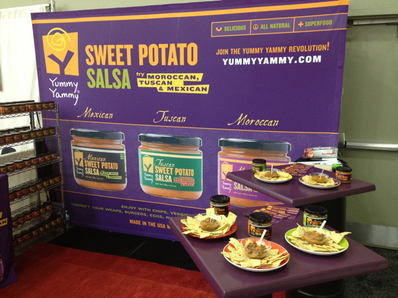 Looking for something new to enjoy this holiday season? How about trying our one-of-a-kind sweet potato salsa! Yummy Yammy, the only company to produce a sweet-potato-based salsa (not containing any tomatoes) started out at local farmers' markets and has now grown to be nationally known. "Lisa's business started in her own kitchen about five years ago with a sweet-potato-based product that required refrigeration and had a relatively short shelf life. She sold it at local farmer's markets and co-ops, mainly. In mid-summer of 2011 she "graduated" to a shelf-stable product in a glass jar, taking the manufacturing process from her kitchen to a co-packer, where she was able to produce more of it and expand her offerings outside local vendors, to independent grocers around the country (and even one in Canada!)."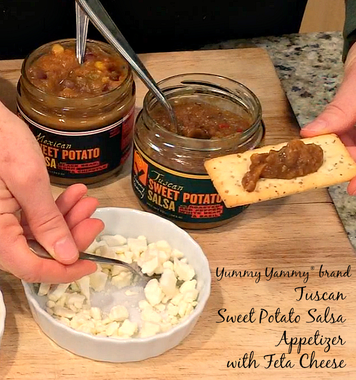 These tasty salsas have the benefit of containing non-GMO ingredients as well as being vegetarian, vegan and they're also gluten-free! Lisa has a strong belief in creating foods for the public that she also feels confident feeding her own family - "food that is made of
food
, without cheap 'filler' ingredients or processed stuff the human body does not recognize as food." She also values the importance of recycling for a lower carbon footprint. Yummy Yammy's glass jars are 100% recyclable and, as usual with glass jars, are 100% reusable. As a business Yummy Yammy also uses recycled packing materials "from various donors in our local community" when shipping cases to their online buyers.
Choose this versatile salsa (check out great recipe ideas here) for a unique choice that you and your family will savor this holiday season. Yummy Yammy salsa is currently on sale through December 2014 at Lantman's Market! Find this salsa in aisle two in our salsa selection.