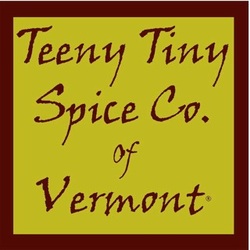 It's the Lantman's Welcome to the New Year Double-Month Blog! The local Vermont company that can take you right through the wintry chills of January and February is
Teeny Tiny Spice
! Exotic spices and seasonings dear to home will keep your plates hot and cozy no matter what the weather outside …
Spice mixtures can often be the secret to a good recipe - bringing a meal from bland to fabulous. Start the year off the exciting way by traveling around the world - in your own home - choosing an array of spice mixtures blended together by
Teeny Tiny Spice Co. of Vermont
!
A family business with Thora, Ed and their children, Teeny Tiny Spice is a unique Vermont company, offering a wide selection of steel tinned organic spice blends from Ethiopian Berbere to Montreal Seasoning.

"The first store that Thora tried to get to carry them said they would never sell … not even as a gift … luckily she just headed right back out to try again. In four years we have sold over 100,000 tins of spice!" Yet even while having grown much faster than they had at first anticipated, they "are committed to being uncompromising in the quality of [their] product and the service that [they] provide." With core values of honesty and integrity, Thora and Ed run a business that anticipates what their customers, stores and vendors need without being asked.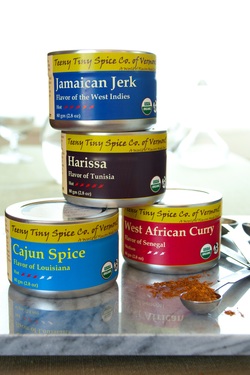 Sourcing ingredients from all over the world, Teeny Tiny Spice is
USDA organic
and certified by
Vermont Organic Farmers
in Richmond. They are also certified Kosher by
EarthKosher
. The spices are packaged in recyclable and reusable tins ("great for storing buttons, nails, hooks, etc"). Teeny Tiny Spice also donates spices to local events such as the
Junior Iron Chef competition
!
"We really appreciate our customers and our stores. This work can be tiring and stressful, but when we get a "Thank You" from somebody for what we have created, when people tell us that our spices have changed their lives, that our spices have made their families want to sit down and eat a meal together, all of the hard parts of making a business run are worth it. So we want to thank all of you for making it possible for us to have this incredible life experience."
"Lantman's carries a huge selection of our spices tucked on one shelf! We would love for people to try any of the blends that strike their fancy."

You can find Teeny Tiny Spice Blends in a wide range of varieties and heat levels on the end-cap between aisles 8 and 9 in Lantman's Market. Pick up recipe cards, located right next to the spices to inspire new meal ideas and start out 2015 with some new and exciting dishes!