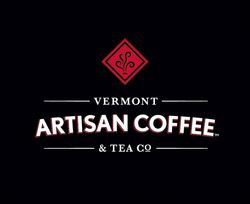 Local Vermont companies make a difference throughout the world.
Vermont Artisan Coffee and Tea Company's
enterprise, skill and collaborations benefit the lives of cultivators around the globe, enhance local Vermont communities and bring the exquisite scents of freshly brewed coffees and teas to the tables of our customers.
Choices are made at this family-owned Vermont company according to a long term commitment to sustainability for the entire planet.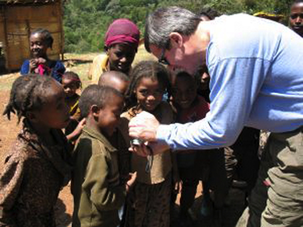 "Vermont Artisan Coffee & Tea Co. was founded by coffee expert Mané Alves in 2001 as an offshoot of his Coffee Testing Laboratory called Coffee Lab International. Mané would travel to source countries for CLI and would discover great coffee beans. He started the roastery so that he could import those green beans; then artisan roast them back home in Vermont." Mané travels to form close relationships directly with farmers and coops as well as utilizing Fair Trade and Organic suppliers - important factors that honor Vermont Artisan's core values: "Quality. Integrity. Sustainability."

"We try to incorporate environmental and social considerations in to our decision making processes – whether it be using compostable 5 lb. coffee bags and tea sachet material; selling our teas and some coffees in reusable tins; offering organic, Fair Trade, and Direct Trade coffees and teas." The Vermont Artisan Coffee and Tea Company also likes to support local businesses and vendors, "so often we will make purchasing decisions that create the smallest footprint environmentally."

Mané and his wife Holly own and run their business believing in "Buy Fresh. Buy Local!" producing freshly roasted coffee in small batches. They enjoy creating relationships with the local community, and "our plan is to build a new 12,000 sq. ft. facility in Waterbury this coming year which incorporates the Coffee Lab, Vermont Artisan Coffee Roastery, CLI's School of Coffee classrooms, and a Café."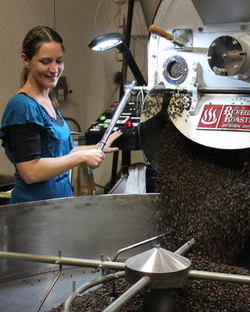 Recently, Vermont Artisan has expanded
its offerings
to include carefully selected premier teas. Lantman's Market is excited to have added Vermont Artisan teas to our
newly expanded tea selection
! From English Breakfast
(grown in the Iyerpadi Estate in the midst of Indira Gandhi Wildlife Sanctuary) to Hibiscus Blossom (a beautiful blend of hibiscus blossoms with vibrant fuchsia color and delightful floral aroma), these artisan teas have a unique blend of flavor and are a great choice for those looking for an organic, local and socially responsible choice! Lantman's also carries a wide array of fresh Vermont Artisan Coffees: All of Vermont Artisan's coffees are roasted fresh when ordered. To find out more information about Vermont Artisan Coffee and Tea Company visit their website
here
.