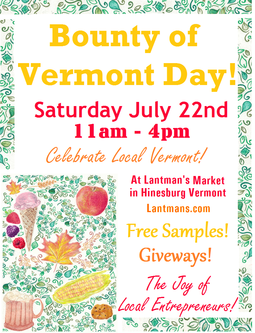 Saturday 22 July 2017 11:00 am - 4:00 pm at Lantman's Market is Bounty of Vermont Day! The samples, the treats, the giveaways, the lively conversations and colorful displays will all be flowing in our celebration of Vermont's local entrepreneurs! Blue Moon Sorbet will have all natural fruit sorbets swirling on spoons. Butternut Mountain Farm will bring maple satisfaction from sustainable forests stewarded by the Marvin family to the summer festival while Butterworks Farm will bring the sweet taste and creaminess of dairy products from their lovingly cared-for cows happy on the fields and in the solar barn. Champlain Farms will be sharing their sumptuous bounty of Vermont fruits grown with a conscience.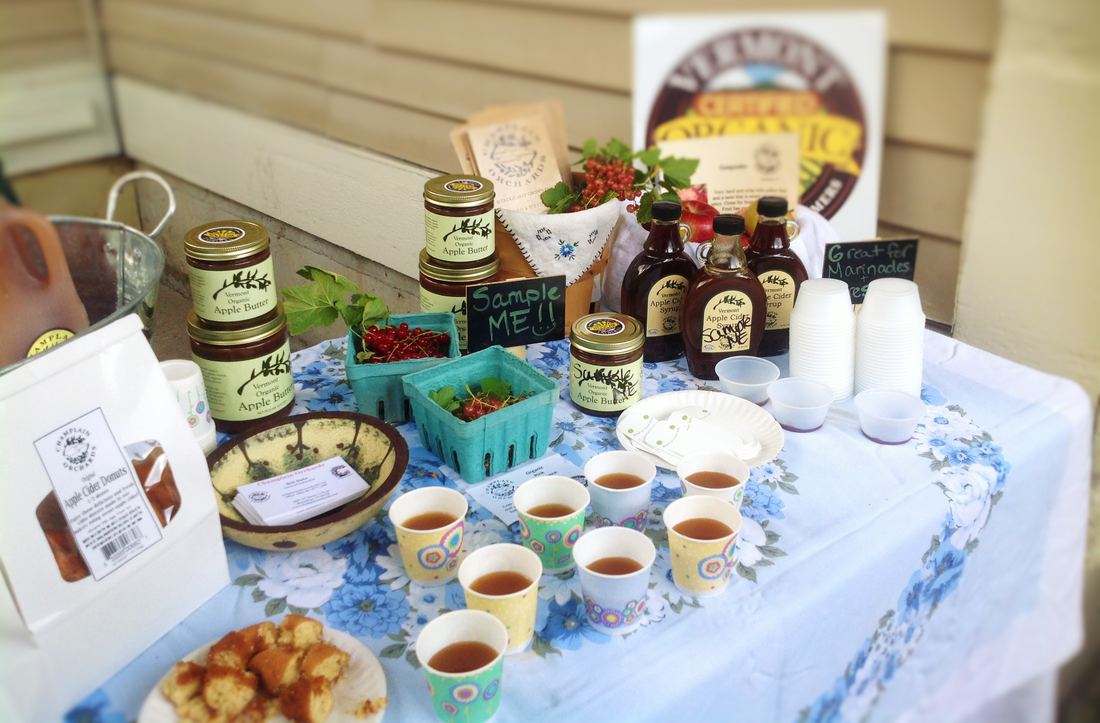 Comfort Cookies made with Vermont goodness will be there to be enjoyed with Kimball Brook Farm's organic premium milk, cream and iced tea. Laughing Moon Chocolates from the beautiful mountains of Stowe, Vermont will provide handmade, small batch chocolates. Visitors 21 years of age and older can taste Hogback Mountain Brewing's hyper-local nanobrews in traditional styles and quirky alternatives from their home nestled up against Hogback Mountain in the Vermont village of Bristol. The fresh Vermont cream and sweet local butter that slow cook in the great copper kettles of Lake Champlain Chocolates will bring you caramel and chocolate savorings. The exquisite pleasure of Runamok Maple syrups will be topping delicious and wholesome Nitty Gritty Grain organic pancakes. Windstone Farm from Williston, Vermont will be there with its amazing organic garlic scape pesto.

The wonderful, pasture-fed Alpine goats of Midnight Goat Farm in Huntington, Vermont are contributing to the producing of handcrafted artisan cheeses ready for you to sample. Red Kite Candy, Road Trip Fudge and O.W.L. Energy Bars will be there to put wholesome Vermont sweetness in your outdoor excursions. Richard's Vermont-Made Sauces and Hinesburg's own Vermont Smoke and Cure put the zing in a summer full of grilling. As you relax in contemplation of all the joys of our state's bounty, Laurie's All Natural Products, Vermont Soap and Urban Moonshine will be there to comfort and care for you in a natural, sustainable way. We will see you at Lantman's on July 22nd!