Smooth Creamy Pumpkin Cheesecake, Amazingly Rich Silky Ganache Topped Flourless Chocolate Cake,
Cream Cheese Frosted
Sourdough Carrot Cake, Buttery Raisin Cranberry Oatmeal Cinnamon Vanilla Cookies ... Local Vermont bakery

Honeymoon Kitchens

delivers their gems of quality and craftsmanship directly to Lantman's Bakery Department so that you can whisk them off the shelves directly to your lunches,
brunch menus, dessert tables
, celebrations and, of course, supreme snacking stashes!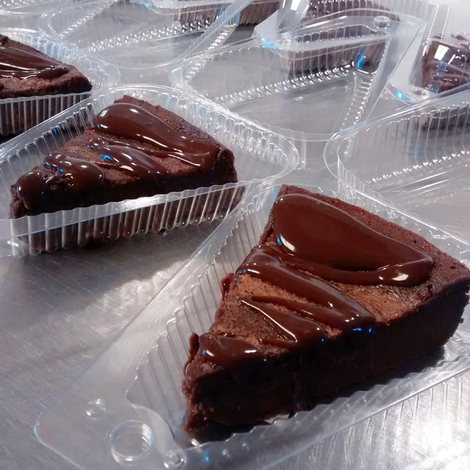 John Diegel and Jessie Jerry now run Honeymoon Kitchens in Vergennes, Vermont after buying the company from John's parents in 2004. John grew up in the bakery, an enterprise that his parents originally started in Pennsylvania in 1995 just before moving to Vermont in 1996. The local bakery specializes in irresistibly crafted cookies, cakes and pies, providing special order cakes and cupcakes and offering conveniently packaged slices and cookies at quality local markets. Producing products that are beautiful and sumptuous, the owners explain why they feel a part of Vermont's small family business tradition: "Our products are fresh, local, and delicious, and call on the craftsmanship and attention to detail that Vermont craftsmen are famous for ... We aim to stay small and family run."


Honeymoon Kitchens' practices benefit local community charities, recycling and composting efforts and local farmers: "We are a supporter of the John Graham Shelter in Vergennes, where we bring our slightly imperfect seconds (but still delicious!) and supply made to order birthday cakes for the children ... Our clamshells are recyclable, and all of our products are compostable. As a business, we recycle and we have a thriving compost pile for all of the eggshells, leftover batter, etc that comes from having a bakery ... All of our flour is from King Arthur Flour in Norwich, Vermont. Whenever possible we source locally, either from Vermont or from New England and Upstate NY. The rhubarb for our summer Rhubarb Cake was sourced from Addison County, Vermont."

We welcome Honeymoon Kitchens to our selection of superb Vermont local products. Find Honeymoon Kitchens' cake slices, pie slices and cookies in Lantman's Bakery Department!