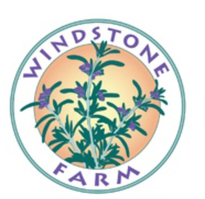 Bagels, omelets, pizza dough, sandwich spread, pasta, marinades, salad dressings, dip, potato salad, mashed potato, stir-fry ... organic garlic scape pesto brings irresistible deliciousness from Windstone Farm in Williston, Vermont. Garlic scapes, the vibrant green swirling sprouts of the garlic plant, are skillfully combined with walnuts, parmesan cheese, olive oil, salt and pepper to enliven every meal of the day including traveling lunches, picnics and special celebrations. We knew we had to have it available to our customers when we tasted it, so you'll find Windstone Farm Garlic Scape Pesto a new addition to our offerings arriving this month!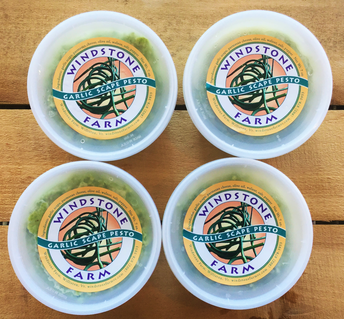 Windstone Farm specializes in growing certified organic culinary herbs on a farm that began in Williston, Vermont in the 1840's. Williston is also known in history for being the site of Smith Wright's Cold Storage Refrigerator, one of the earliest cold storage freezing facilities in the nation, and it is this legacy that allows Windstone Farm to extend the season of their Vermont-grown scapes by freezing the pesto during the short scape season so that it can be enjoyed as the garlic bulbs ripen on the garlic plants into the autumn. This sustainable practice means that each garlic plant in the field provides culinary satisfaction as its scapes are harvested early, while encouraging the garlic plant to direct its energy into producing plump, succulent bulbs underground when the scapes have been removed.

Windstone Farm cherishes local produce and its commitment is to providing the freshest product to their friends, family and local community. They are members of the Northeast Organic Farming Association which works to "support local, organic farmers and gardeners ... and build strong, agriculture-based communities" as well as the Vermont Fresh Network, "dedicated to connecting farmers, food producers, and chefs that support Vermont agriculture, and bring fresh, flavorful, high-quality food to all Vermonters and our guests."

You can find Windstone Farm Garlic Scape Pesto in the dairy section (next to local salsas and pasta sauces) at Lantman's Market!