Order a misty knoll turkey for your feasting table!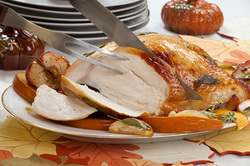 Orders must be placed before November 18th, 2015
Misty Knoll Farm Turkeys are raised exclusively on their Vermont farm and are fed without antibiotics or ionophores. No artificial ingredients are added.

Pre-ordered turkeys are priced at $3.39/lb.

---
Call us at (802) 482-2361 or talk with our Meat Department in person to pre-order your turkey!
---
Note: Turkeys can be ordered by a general size range but specific poundage size cannot be guaranteed.
Choose from these five size ranges:
11lb. - 15lb.
16lb. - 20lb.
21lbs. - 25lbs.
26lbs. - 30lbs.
30lbs.+